建立平稳学习的平台,培育有素养善心诚意及有责任感,有担当的生活瑜伽老师,能和生活瑜伽导师共同传播,真正瑜伽真髓。
进行有关身心灵工作坊与天然健康饮食有相同理念的人士合作与交流及分享资讯和知识,帮助更多人找回健康和快乐。
To train and nurture yoga teachers who are caring and have a strong sense of responsibility so as to work together to promote the true essence of yoga.
To work in collaboration with others in the areas of natural food and healthy diets to share and exchange learning to help more people seek wholesome health and happiness.
应用瑜伽真谛全方位和多柈化地实践在生活上,培养大众正确的观念," 养身在动,养心在静"以造福更多人。
提倡学习"呼吸" 感受生命,开啟身体与生俱來原有的机制,打开健康之门,让自觉力和自愈力敞开起来,从而提高个人的正面和全面的生活素质。
Achieve the objective of balancing the body, mind and soul through applying authentic yoga elements across multi-disciplinary practice in daily living.
Advocate the importance of breathing to connect to the subconscious mind and the body's ability to self-heal and improve one's physiological well-being.
创办人兼导师
Founder and mentor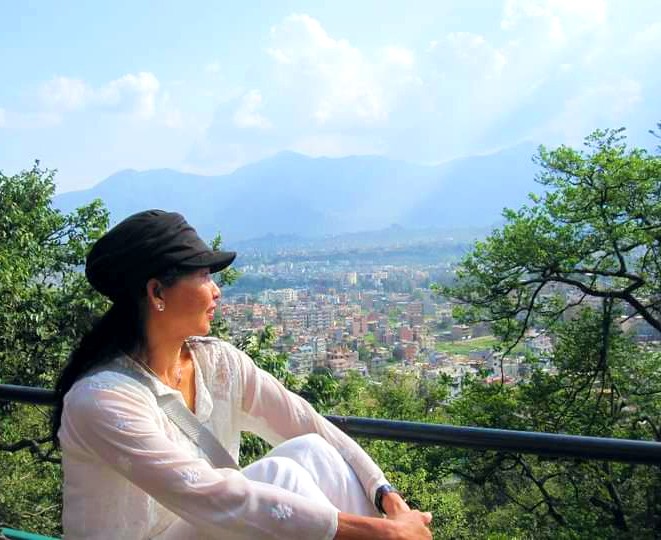 生活瑜伽创办人兼导师邱玉珠,从事瑜伽教学多年,对瑜伽的热诚已经融入在她生活与生命中。
邱玉珠导师多年來不断的自我学习与成长。她透过自我探索古老瑜伽的智慧与真谛,加上古今中外贤人圣者的智慧以及医学,哲学,心理学及宗教去更精细探究宇宙万物的真理。求知和实践中有所自我发现,也在自我坦诚中探究真实的自己。
邱玉珠导师在2010年创办了生活瑜伽,目前学员众多同时也己成功培训出一群非常优秀的专业瑜伽老师,分别在生话瑜伽学院与各个新加坡民众俱乐部,以及马來西亞为开班授课,常年为学生和有缘人主为有关身心灵活动。生话瑜伽之旅,生活健康饮食工作坊等活动,生活瑜伽户外活动等和有关为各个社区机构服务。
Madam Khoo GC, founder and mentor of Living Yoga, has been teaching yoga for many years.  Over the years, her passion for yoga has been integrated into her life and in the daily living.
Madam Khoo has continuously learn and pursue the yoga philosophy for many years. Through self-exploration of the wisdom of ancient yoga and the sages, and into areas of medicine, science, philosophy, psychology, she seeks out the truth in the universe.  The discovery has enriched her knowledge and practice, giving her clarity on her life purpose.
In 2010, Madam Khoo started Living Yoga. To date, she has successfully trained a group of professional yoga teachers. Many of them have taught or are now teaching at the Living Yoga studio, various community centres in Singapore and also in Malaysia. The yoga teachers trained by Madam Khoo continue to emphasize on Living Yoga's approach to promote balancing the mind, body and soul.  We do it through organising heath talks and seminars, retreats and sharing sessions to educate the community.
生活瑜伽以人为本,强调内在为核心。程度由浅进入深,循序渐进。为忙碌的现代人找到一种提升精神,减压及全方位地平衡和净化身心灵的有效方法。
教学内容丰富翔实,示范讲解具体而清晰易懂,重视分享与交流,帮助每一位学员了解瑜伽的真谛,进而改善身体的疼痛及疗愈心灵的伤痛,唤醒内在的潜能与智慧。
生活瑜伽身心灵统一的教学法则有效地强化身体,同时找回心灵平静和喜悦,升化生命能量与此同时正面的人格与人生覌回归本性,使我们更有自信和实力去面对工作和生活中的一切挑战。
Living Yoga is people-oriented and emphasizes looking inwards as the core. Our lessons start with the basic and gradually increase the difficulty level as we progress. The teaching is useful and effective for those who lead a busy lifestyle to help them release stress, uplift themselves though purifying to achieve a balance of the body, mind and soul.
The teaching content is rich and informative, with demonstration, providing clarity and are easy to understand.  We emphasize peer sharing and communication so that we can learn from the experience of others.  Besides learning authentic yoga, the students will have their physical and psychological pain relieved, and the awakening of their inner potential and wisdom.
The teaching method of balancing body, mind and soul in Living Yoga is effective as it helps you strengthen your body, have a peaceful mind and a joyful soul.  The energy uplift will give you the confidence to take on any challenge in life.